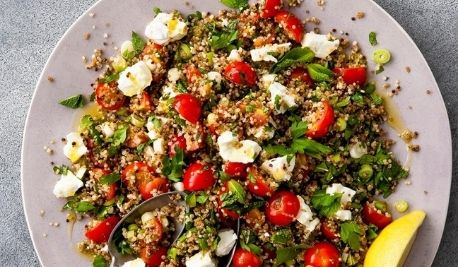 2 cups water
1 cup quinoa
1 pinch salt
1/4 cup olive oil
1/2 teaspoon sea salt
1/4 cup lemon juice
3 tomatoes, diced
1 cucumber, diced
2 bunches green onions, diced
2 carrots, grated
1 cup chopped fresh parsley

In a saucepan bring water to a boil.
Add quinoa and a pinch of salt.
Reduce heat to low, cover and simmer for 15 minutes.
Allow to cool to room temperature; fluff with a fork.

Meanwhile, in a large bowl, combine olive oil, sea salt, lemon juice, tomatoes, cucumbers, green onions, carrots and parsley.
Stir in cool quinoa.